Careers in Translation and Interpreting event 2015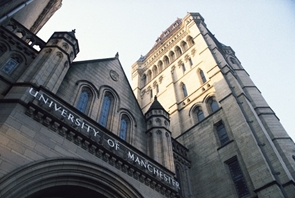 Barely two months after speaking at the University of Manchester's "Love Languages" event, alumna Melanie Smith was invited to reprise her role at another "Careers in Translation and Interpreting" day on 11 May 2015. Joining industry colleagues from a variety of in-house, agency and freelance backgrounds, Melanie's presentation provided the Manchester students with a first-hand insight into life as an in-house translator.
As a recent graduate of the university, Melanie was ideally placed to demonstrate how the MA in Translation and Interpreting Studies (MATIS) stood her in excellent stead when applying to companies as a newcomer to the profession and armed her with the skills needed to make the transition to working life.
Whilst it wasn't specifically intended as a recruitment drive, the event provided ample opportunity to highlight our unique model, including the innovative student mentoring scheme and comprehensive training programme for new graduates. Melanie also made the most of her background in recruitment to offer useful tips and tricks for everything from CV writing, test pieces and speculative applications right through to standing out at interview.
On the strength of our contribution to the event, we have since been asked to participate in a short film for the university website to offer a behind-the-scenes glimpse into life at Louise Killeen Translations. Lights, camera, action!