Guest speaker at "Helping your business to grow" event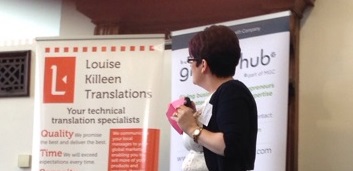 On Thursday 20 April, the Greater Manchester Business Growth Hub hosted a breakfast event at the Old Police Station in Heywood. Focussing on how to grow a successful business and the challenges and rewards growth and change can bring, the event attracted more than 50 local entrepreneurs and business owners.
Louise was delighted to be invited to attend as the event's guest speaker. There was a real international theme as the agenda also included a contribution from Bohdan Ratycz, an International Trade Adviser from the Department for International Trade. Bohdan gave attendees an introduction to the support services offered to export businesses by the DIT and shared some important tips and tricks to make the most of the exciting opportunities that lie beyond national borders.
Sharing her journey from the very early days of LKT based in a spare bedroom and reflecting on how far the business has come since then, Louise conceded that as is the case with many SMEs, there was no "grand plan" initially. Driven by ever-increasing customer demand, LKT has blossomed from a sole trader operation into a limited company with an in-house team of translators supported by international partners all over the world. LKT really has become the local business with the global reach.
Linking in with Bohdan's presentation, Louise highlighted the significance of international trade to any business looking to grow its customer base, and the unique opportunities that Brexit offers. She even shared some translation howlers to illustrate the importance of using a professional and accredited language service provider.
The Business Growth Hub (http://www.businessgrowthhub.com) is a community of specialists with a passion to help businesses across Greater Manchester to realise their ambitions. The Hub supports businesses at all stages of their growth journey with a broad range of services, offering expert one‑to-one and peer-to-peer business support, hosting events, delivering specialist programmes, providing access to funding and much more. Much of the support offered is fully funded and as such and is provided to local businesses at no direct cost.