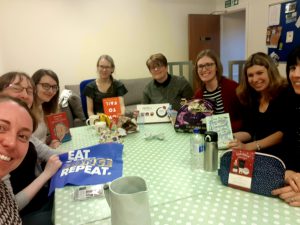 The latest instalment in the LK Team's series of in-house Team Days provided a great opportunity to refine some vital skills, make another entry in the CPD log and chase away the January blues. On the work side of things, the focus of the activities this time was on pooling the team's thoughts through exercises that had everyone working together in pairs and small groups. Team Days in the past have covered a whole range of topics, from style skills and time management to subject-specific knowledge, but this time the approach was a back-to-basics one that focused on two core skills: translation and revision.
On Friday 24 January, the day kicked off with a revision slam run by Lead Translator Siobhan Gorrie. This activity takes its inspiration from the translation slam model that has been a popular format at translation workshops for a while now. A translation slam involves two or more people producing a draft translation of a text (which should always contain enough talking points to keep the participants and audience engaged), and then working through their versions, discussing aspects such as tricky vocabulary, appropriate style and cultural references. LKT's take, the revision slam, has the participants revise a text that has already been translated – which means checking it for accuracy, style, grammatical aspects and so on – and then brings them together to discuss their findings. The text in this case was a highly technical product specification, something that LKT's translators are used to dealing with. Everyone had the opportunity to discuss the results in small groups and then collectively as a team, and agreed that revision can be a painstaking process that is in many ways very different from translation, but provides an equally vital service.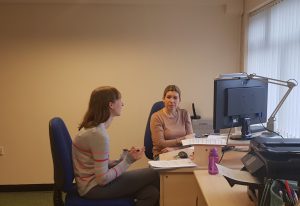 The revision slam then segued into a feedback discussion led by Director Louise Killeen. Feedback is a fundamental component of how our team works: it provides a method of quality control, essential discussion items between mentors and mentees, and concrete points for addressing any issues that may arise. Through our peer review system, every member of our team has the opportunity to both give and receive feedback, so it's vital that they are all familiar with appropriate ways of handling this – something that this session discussed. The team also considered the best ways of giving feedback to the external partners who are an integral part of the work we do.
The day's final activity came in the form of a translation slam run by Senior Translator Catherine Entwistle, who had chosen a delightful text on bathrooms in a luxury Alpine hotel for the exercise – with a combination of some technical detail and marketing information about the hotel's facilities, it provided an excellent example of a text that requires research into technical and cultural terminology but still has to be communicated with an appropriately customer-facing style. After each working on the text individually, the team got together once again and had fun discussing how they had dealt with the various nuances.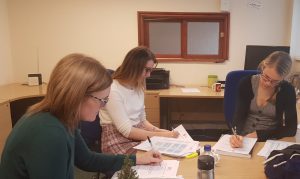 A team get-together is a tonic at any time of year, but in January it's often made that little bit more special by our traditional post-Christmas get-together and Secret Santa. The team swapped gifts on the Friday (full disclosure: we can never resist finding out who each other's "Secret" Santa actually was!), before heading to central Manchester venue Banyan on the Saturday evening for a delicious three-course dinner and drinks. This time round, we were delighted to be joined by some freelance partners and friends living nearby – probably the biggest LK Team night out we've ever had!
The "T" in "LKT" officially stands for "Translations", but we use it in reference to our Team just as often, and events like this truly reinforce how enjoyable and fruitful it is to be a member of a close-knit, friendly group of professionals. Here's to more of the same in 2020!