As a team member who's based off-site in Edinburgh, I've enjoyed being a part of the ITI Scottish Network, one of the regional groups within the Institute of Translation and Interpreting, ever since I moved from Manchester back up north of the border. The Scottish Network – or ScotNet for short – is a vibrant group of translators, interpreters and adjacent professionals from around the mainland and islands of Scotland, and its flagship event of each year is a weekend summer workshop held somewhere that's a little further flung than the two main cities of Edinburgh and Glasgow. After a two-year postponement (the reasons for which nobody needs to explain), on the weekend of 28 May it was finally time to head for ScotNet's furthest-flung destination yet: the Shetland Islands.
As the windiest place in the UK and home to the country's biggest wind farm project (set for completion in 2024), Shetland was the perfect location to run a workshop on renewable energy. In the week leading up to the event, our team had happened to receive quite a few texts for translation on the subject of renewable energy, some of which I'd had the opportunity to work on, so I felt geared up to learn more about this important subject. From my own perspective as a translator, I always love CPD that's on the subject of style or improving written texts, but over the years I've increasingly valued subject-specific learning opportunities too – if we're writing about a specialist area, we need to make sure we have a solid understanding of it.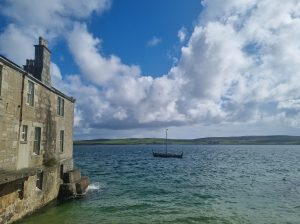 A view from Lerwick, Shetland's main town
With our translator hats on, the main component of the weekend for the ScotNet attendees was a Saturday all-day workshop held in Lerwick, Shetland's main town, with a busy agenda of three speakers and group-based translation work. The speakers provided a welcome combination of subject and language expertise, with Birgit Wagner stepping up to the podium first: a technical translator of 20 years' experience, mainly in patents, Birgit has been a resident of Shetland since 1995 and backs up her translation skills with a degree in engineering mechanics. Her talk engagingly introduced the attendees to some basic principles of engineering (did you know that energy can't be created or destroyed, only changed from one form to another?) as a way of laying a foundation before the next two speakers delved further into the details of their sectors. She also provided an overview of renewable energy types and the advantages and pitfalls associated with each of them, with one eye always on applications within Shetland itself.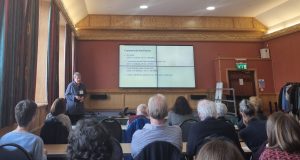 Birgit fills us in on engineering
Tom Wills, the next speaker, was an engineer who also revealed his appreciation for languages: in addition to his mechanical engineering background, he had completed an Erasmus year in France and spent time living in Chile, becoming fluent in Spanish. He took us on a deep dive into the world of tidal power (not the same as wave power!), including the fascinating fact that this particular form of energy is based on tide times that can be forecast well into the future, making it highly predictable (unlike wave power). In fact, the Shetland Tidal Array has been supplying power to the islands since 2016 and is even powering cars – a world first thanks to an e-vehicle charging point that runs on the tides (and is free to use!).
Before the Shetland trip, I'd have thought it unlikely that I'd have been sitting in a room captivated by a peat bog restoration project, but Sue White's talk – the last of the day – proved genuinely fascinating and surprising. We tend to think of peat as cut-up slabs thrown on fires, but lands blanketed by peat are in fact rich carbon stores that need to be preserved: as Sue explained, one hectare of damaged peatland emits as much carbon dioxide as four to five family-sized cars every year. In her role within the Shetland Peatland Project, she helps restore these valuable areas to their former glory, providing a habitat for important vegetation and wildlife. It's always a treat to emerge from a talk or workshop thinking "wow, I never knew that" – whether it's just something you're learning for fun or something you know will be useful in your translation work.
ScotNet's summer workshops always include plenty to keep its attendees occupied outside of the work element itself, even welcoming family and friends along for the ride – and it was clear from the numbers at the fringe programme events that most people had decided to bring along at least one companion (including some four-legged friends!). In addition to a sociable get-together and meal on the Friday evening before the workshop, there was a Sunday whistle-stop tour of the attractions in the southern part of the main island, including the lighthouse at Sumburgh Head, complete with puffins (tammie norries in Shetland dialect), guillemots (longvies) and oystercatchers (shalders) dotting the nearby cliffs; Jarlshof, a prehistoric and Norse settlement; and the natural beach causeway at St Ninian's Isle. All of this was expertly organised by Birgit, ScotNet's on-the-ground representative.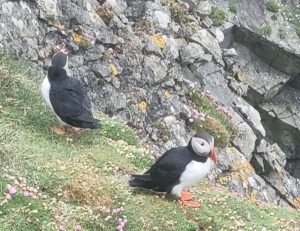 A real highlight: puffins at Sumburgh Head
Lots of ScotNetters had planned their trips so that they could stay an extra few days and explore other islands in Shetland, or take the opportunity to visit Orkney. Although my husband and I had to catch the Sunday night ferry home, we agreed that our first trip to Shetland wouldn't be our last – and I felt even better equipped to tackle more translations about renewables when they came across my desk again.