At the time of writing, today is Monday 20 June, World Refugee Day – so it seems like the perfect moment to tell you a little about our family's latest adventures in languages and different cultures. Because we thought working full time and raising two wild pre-school and school-aged boys wasn't enough, Sebastien and I made the decision to participate in the UK Government's Homes for Ukraine scheme and host a Ukrainian family in need in our spare rooms. Like the rest of the world, we watched in horror as the war started unfolding (something that it continues to do), and we felt compelled to do whatever we could to help from our privileged location here across the Channel.
Now, I am not going to wax lyrical about what a life-changing and rewarding experience it is (although so far it has been); there are plenty of other very interesting and emotional articles out there, from both the refugees' and hosts' perspective, which do a far better job describing that than I ever could. Nor am I writing this to flatter my ego in expectation of praise. As a linguist, I am simply trying to analyse what happens when a trilingual family is suddenly strongly exposed to a fourth language thrown into the mix.
Our guest family arrived a little over a month ago. We are hosting a mother (we'll call her Illona*) with an adolescent daughter (Anna) and a three-year-old son (Oskar). Illona speaks English at an intermediate level – in Ukraine, she taught chemical sciences in English to foreign students at university, so her language skills revolve more around the academic/scientific/medical field. However, she makes every effort to speak in English every chance she gets, and it seems to me that she has already made incredible progress in terms of conversational English.
Anna arrived with a very basic grasp of English – although she probably understood more than she let on. She was extremely timid and scared to try speaking to us, clutching her phone with her at all times so she could quickly access Google translate in case – horror of all horrors – she crossed paths with my husband or me in the house (given that it's a pretty small house, that tends to happen a lot). As those who have experience with machine translation can tell you, this can sometimes lead to some pretty funny mistranslations. Like the time she asked me whether she could help make willow (turned out to be tea/dinner) or how to glower (switch on) the TV in her room. In return, she dissolved into a fit of giggles when Sebastien used our good old friend Google to tell her that said TV is quite temperamental (I believe the exact word he used was sh*t) – whether it was from a mistranslation, or the unexpected use of slang shall forever remain a mystery.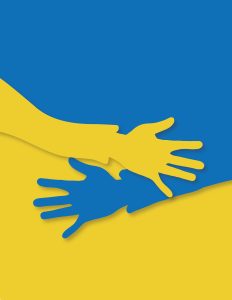 Fast forward to yesterday evening when I invited her along for a long hike after work to make the most of the evening sun. She did not stop talking the entire way. I am not complaining – don't get me wrong – but amazed at how we got from just a few words (hello, bye, goodnight) to lots of little anecdotes about her life pre-UK, about her friends, school, dog, grandparents, and so on in just over a month. A lot of the conversation was spent trying to find the right words, parts of it were in Ukrainian with me attempting to guess the words thanks to gestures, acting and facial expressions (anyone up for a game of Ukrainian charades?) and most of it was grammatically incorrect, but at this stage, who cares? If the situation were reversed and I were a refugee in Ukraine, I would probably still be grappling with the difference in alphabets in the same timeframe.
And now to my favourite English student, three-year-old Oskar. My boys have done due diligence and have taught him the essentials. In just a few days, his first English words were No, ice cream and my house. Quick sidebar: never have I seen my boys transform faster from two local Mancunians to outraged upper middle-class English gentlemen than when he told them that their house was his house: "IT MOST CERTAINLY IS NOT YOUR HOUSE!". I almost expected one of them to produce a glove and challenge him to a duel.
Other than that slight hiccup, he chats away in Ukrainian, not caring, or perhaps not noticing, that we do not understand a word he says unless his mother translates for him. We nod along, seem to make the right noncommittal noise at the right moment and just hope that he's telling us a story about his daddy and not that he's excitedly telling us that he's just drawn a massive mural with permanent marker on our bedroom wall. On the other side, my older son (who is now 6) has recently decided that he is now fluent in Ukrainian and responds to him in complete gibberish, mimicking Ukrainian sounds. Funnily enough, this does not seem to faze Oskar in the least and they appear to hold actual conversations where only one person really knows what he is saying.
As for me, I can honestly say that I simply enjoy hearing another language – other than the "usual" ones – being spoken in our house. Coming from an international city like Geneva, all I had to do was step out of the house to hear a number of different languages being spoken all at once (French, Italian, Portuguese, Arabic, Spanish, African languages, Albanian, you name it), and this is something that I have seriously missed since moving to Middleton. Yes, it would be nicer if I could understand at least some of it (and I know that it's entirely up to me to fix that), but some words do seem to become more and more familiar with time. Who knows, maybe by the time Illona and her family are all set and decide to move on from our house to greener pastures, I will have been able to add Ukrainian to my language skills…
* Names have been changed to maintain confidentiality.